Are You Looking for an Orthodontist in Lancing?

Splash Orthodontics are a renowned orthodontics practice based a short distance from Lancing. Although we are primarily located in Hove, we encourage our patients and prospective patients to make the short trip down to Hove from Lancing to receive our expert care and treatment.
Our team here at Splash Orthodontics are specialists in the orthodontic field. Our team's expert treatment is made better when combined with our exceptional customer service. In both the dental and orthodontic industry, customer service is arguably the most important area, as some people can be quite anxious whenever the word 'orthodontist' is mentioned. This is why our team pride themselves on their dedication to ensuring every patient receives the care, treatment and support they deserve.
We also offer a free, no-obligation consultation to our patients considering orthodontic treatment. The consultation is beneficial for both patients and our team, as this is where we decide what route we will be taking regarding the development and transformation of your teeth. Our orthodontic specialist Iain Hoeltschi will be present during this consultation to ensure any and all questions are answered.
Some questions you may want to ask are:
Am I an appropriate candidate?
What is involved?
What treatments are there?
How much will it cost?
You will also be introduced to the wide variety of braces options we offer here at Splash Orthodontics. It's very important that we offer all our customers a variety of braces options to ensure they aren't left without options they're comfortable with.
Orthodontist Treatment in Lancing
As there is currently a rise in cosmetic surgery, more people are opting to travel around the world to receive expert treatment. That's why we encourage patients across the UK to visit our practice to receive expert treatment. The short trip from Lancing to Hove will result in you receiving exceptional customer care, treatment and a smile that will last a lifetime.
As always, our top priority here at Splash Orthodontics is your care and safety. So, even while you are able to choose the braces you desire, our team will always put your safety first, meaning sometimes you braces choice may not be realistic due to your tooth alignment. This is why the consultation is so important, any questions or concerns regarding your teeth can be resolved during the consultation.
Our Braces Treatments in Lancing
From children's braces to adult's, we provide a wide variety of braces for everyone. We understand that some people have specific requirements when it comes to braces and we're here to help you make the appropriate choice.
However, it's equally important to remember that when you are selecting your braces, it isn't just about the aesthetics. For example, Invisalign braces are very different to fixed braces – Invisalign are transparent, removable and you cannot eat while wearing them. Fixed braces, in contrast, are not transparent, they are not removable but you can eat while wearing them and they offer a superior degree of control.
Speaking to our team will help you decide on what braces choice is right for you. Below are the braces options we offer here at Splash Orthodontics:
Invisalign is arguably the most popular braces option at the moment. This is mainly because it's still fairly new, it's transparent (invisible), removable and they offer a discrete tooth straightening option.
The most popular age group for Invisalign is probably teens and young adults. This may be because some teens are anxious over getting braces during these years and they'd like to make the change as discrete as possible. While Invisalign hasn't been around as long as fixed braces, they do produce consistent results.
In contrast to Invisalign, fixed braces are not transparent or removable – they do, however, produce exceptional results and offer the highest degree of control across all options. They have been used in orthodontic practices for years due to their phenomenal success rates, so if you are not too concerned with aesthetics, fixed braces may be the choice for you.
Regular check-ups are required in order to ensure your teeth are developing healthily and you're happy and comfortable with their positioning.
If you're looking to something in-between fixed braces and Invisalign, you may want to consider lingual braces. These are positioned behind your teeth, out of sight and work in a similar way to fixed braces. They offer a high degree of control combined with discreteness.
While you may not think that early treatment is important, having an early check-up will be able to identify any underlying problems and ensure they are dealt with before they worsen. We recommend that children should visit an orthodontist between the ages of 6-10. If any problems are discovered, a treatment plan will be issued.
Teenagers and braces don't appear like a good mix! However, thanks to improvements in orthodontic technology, teenagers no longer have to feel anxious about the prospect of braces. As mentioned before, Invisalign has become the popular go-to choice for teens needing braces.
However, if you are not concerned with the appearance of braces, you may want to opt for another option! We believe that getting braces should be a fun and ultimately life-changing choice! So embrace it!
Braces are available to anyone at any age. Adult braces are becoming more popular, with many adults opting for Invisalign and fixed braces.
However, speaking with a our team will help with your choice.
Visit Our Clinic for a Free Consultation
So, if you're looking for specialist orthodontist, why not make the short trip down to Hove to visit Splash Orthodontics? A 20-minute drive could lead to a healthier, happier smile. Get in touch today for your free consultation!
Please see the map below for the easiest ways to reach us.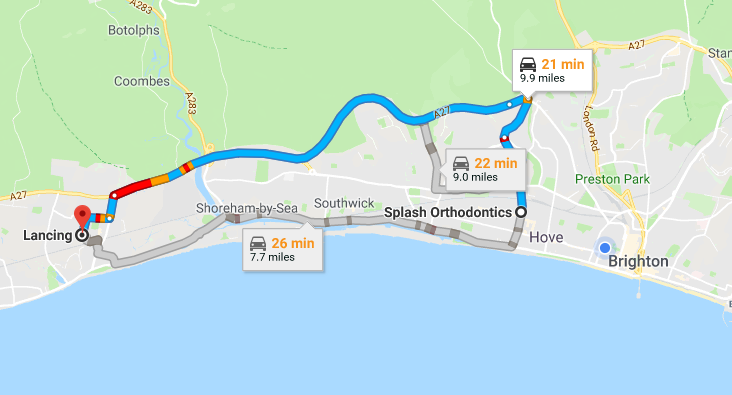 Parking:
Sackville road:
Monday – Sunday 09:00 – 20:00 (anytime outside these hours is free)
1 hour – £1.00
2 hours – £2.00
4 hours – £3.20
Max – £5.20
For more information on parking, please visit this page here.