Are You Looking for an Orthodontist in London?
Splash Orthodontics is a professional and affordable orthodontic practice based in the heart of Hove, and we encourage all our London patients to make the short trip down to our clinic. We offer an extensive range of orthodontic treatments and services. Our braces options include: Invisalign, fixed and lingual braces.
Our team is made up of industry specialists dedicated to ensuring patient care and satisfaction comes first. We're incredibly proud of our customer service and with a variety of treatment options available, we're sure we can find a solution for you.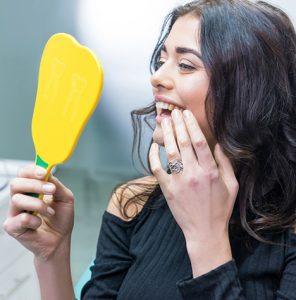 Our Exceptional Customer Service
Our team understands that some patients are anxious over visiting dental or orthodontic clinics. This is why we offer free consultations to everyone who walks through our doors. During your very informal consultation, you will be able to voice any questions or concerns you may have regarding your treatment. Ensuring patients feel comfortable and relaxed is our most important priority and we encourage all patients to ask questions during their consultations.
Additionally, your questions will be answered by our resident orthodontist Iain Hoeltschi.
Some questions you may want to ask:
Am I an appropriate candidate?
What does the process involve?
What treatments are there?
How much will it cost?
Part of our process is ensuring all patients understand the treatment process for the braces they have selected. Once your questions have been answered, we will be able to begin arranging your treatment. We provide a wide variety of braces plans, all independent and created to suit each individual. We have a bespoke treatment plan for everyone.
Orthodontist Treatment in London
While we are located in Hove, we encourage our London-based patients to make the trip down to experience our exceptional clinic and service. We provide a range of treatments suited for each individual patient.
Patients usually take delight in selecting the braces that will shape their smile, and we're here to help guide you to an appropriate choice. This also means that our team will advise if we believe you may be better suited with a different braces treatment. Your comfort, safety, and smile is our priority and we will help you select the braces that will help you achieve the smile you deserve. This process will be clearly explained during your consultation.
Our Braces Treatments in London
We provide a variety of braces options to help you transform your smile. All of our braces options are designed to serve different aligning and straightening purposes. Patients may be inclined to opt for a braces route that's discrete but it's also worth remembering that every patient is different and what works for someone else, may not work for you.
Invisalign braces have become particularity popular because of their transparent appearance. Many have opted for this solution, and while they are very effective, there are a few factors to consider, such as price, treatment time and eating routines.
Every patient is different and we're here to help you choose the braces option most appropriate for your specific requirements. Below are the braces options we offer here at Splash Orthodontics:
Invisalign
Very popular at the moment, mainly for its discrete design. Invisalign is made of two removable, transparent aligners that are worn daily but must be removed when eating. Invisalign has become particularly popular with teenagers who are keen to keep their braces discrete.
Fixed Braces
Fixed braces remain a popular choice because they offer an exceptional degree of control. They do not offer the discreteness of Invisalign but thanks to improvements in technology, fixed braces now come in transparent forms and are highly adaptable to suit the patient's preference. They still have the best success rate out of all braces options.
Fixed braces do require regular checkups with your orthodontist. This is to ensure your braces remain correctly aligned and if any issues to arise, they can be dealt with promptly.
Lingual Braces
Lingual braces are widely believed to be the 'happy medium' between fixed and Invisalign braces. They are attached to the back of your front teeth. This means that the offer the discreteness of Invisalign and the control of fixed braces.
Early Treatment
We encourage patients aged between 6-10 to visit our clinic to ensure everything is developing as it should be. While there may be nothing wrong with your child's tooth development, an orthodontist will be able to tell if there are any underlying problems. If something is discovered, it can be dealt with swiftly to ensure the problem does not worsen.
Teen Treatment
As mentioned previously, Invisalign has become a very popular choice for teenagers seeking braces treatment. Our team understands that some patients may be anxious about the thought of getting braces, which is why we encourage teenagers to ask as many questions as they like during their consultation.
Adult Treatment
Adult braces are becoming increasingly popular due to advancements in technology and the media. There is no age cap on braces, so if you're considering them, book-in for a free consultation today!
If you are unsure as to which braces option to choose, our expert team will happily lend their advice.
Visit Our Clinic for a Free Consultation
So, if you're looking for specialist orthodontist, why not make the short trip down to Hove to visit Splash Orthodontics? Your trip from London to Hove could lead to a healthier, happier smile. Get in touch today for your free consultation!
Please see the map below for the easiest ways to reach us.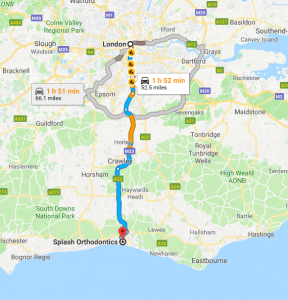 Parking:
Sackville road:
Monday – Sunday 09:00 – 20:00 (anytime outside these hours is free)
1 hour – £1.00
2 hours – £2.00
4 hours – £3.20
Max – £5.20
For more information on parking, please visit this page here.