Dr Iain Hoeltschi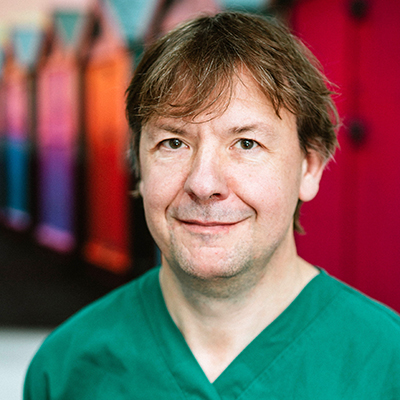 Specialist Orthodontist
GDC number: 66756
Dr Iain Hoeltschi studied dentistry at King's College Hospital, London and graduated in 1991. After vocational training he moved to South Wales to become a senior house officer in maxillofacial surgery. He then held posts in restorative dentistry, child dental health and periodontology at Newcastle Dental Hospital and was awarded the Fellowship in Dental Surgery from the Royal College of Surgeons and Physicians of Glasgow in 1996.
After a three-year postgraduate orthodontic training programme at the Eastman Dental Hospital in London, Iain was awarded a Master of Science degree and the Membership in Orthodontics from the Royal College of Surgeons of England. This allowed him to be registered as a specialist orthodontist with the General Dental Council (GDC).
After travelling to Sydney to work as a Senior Registrar in orthodontics at the Westmead Dental Hospital he returned to England and a specialist practice in Tunbridge Wells before joining Total Orthodontics in 2009. Iain then bought Sackville Road Orthodontic Clinic, now known as Splash Orthodontics, in 2012. Married to Marisa, with two young children, Iain enjoys running, cycling, music and the arts.
Professional memberships
Iain is a member of:
The British Orthodontic Society
The American Orthodontic Society
The British Dental Association
What's the best part of your job?
Seeing complicated cases achieve excellent results and my staff enjoying being part of our team.
What would I do if I wasn't working here?
I would love to have the time to explore the Middle East and one day visit Petra in Jordan.
Dr Sarah Grieve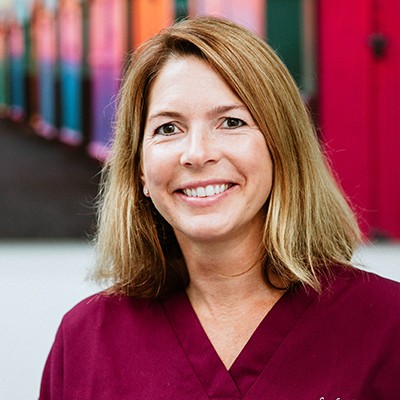 Specialist Orthodontist
GDC number: 75065
Dr Sarah Grieve graduated as a dentist from King's College, University of London in 1998. She then spent three years gaining a broad postgraduate education, working in both general practice and the hospital service. Hospital posts included paediatric dentistry and maxillofacial surgery. During this time, she successfully passed the Membership in Dental Surgery examination awarded by the Royal College of Surgeons of England.
Sarah undertook her postgraduate orthodontic training at Guy's Hospital in London and The Royal Alexandra Children's Hospital in Brighton. She was awarded her Master of Science in Orthodontics (King's College, London) and Membership in Orthodontics from the Royal College of Surgeons of Edinburgh.
Sarah is a registered specialist with the General Dental Council. She is a member of the British Orthodontic Society and a certified Invisalign provider. She is committed to postgraduate training and regularly attends courses and national conferences.
When she's not straightening teeth, Sarah enjoys spending time with her lovely family, yoga, theatre, netball and travel.
Professional memberships
Sarah is a member of the British Orthodontic Society.
What's the best part of your job?
Giving patients the best ever smile.
Interesting fact about orthodontics?
Invisalign is a great option for teenagers.
Top tip for someone wearing braces?
Always carry a small mirror and interdental brush to keep your teeth healthy and looking lovely.
Dr Catherine Rhoden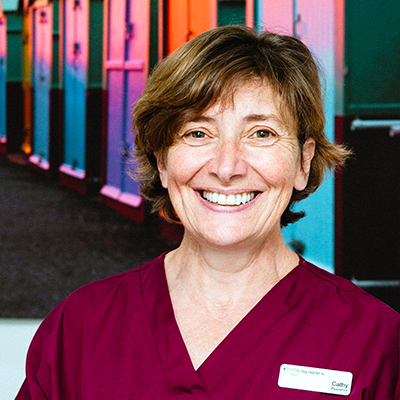 Dentist with a Special Interest in Orthodontics
GDC number: 60623
Dr Cathy Rhoden has been practising orthodontics for more than 20 years, and she has a wealth of experience. As well as being an exceptional clinician, Cathy is warm and friendly, and will instantly put you at ease.