Orthodontist in Peacehaven

Splash Orthodontics are the leading orthodontic clinic within the Brighton and Hove area, offering exceptional treatment plans and patient care.
We are located a short distance from Peacehaven, and we encourage all of our patients to make the very short trip 30-minute drive to our clinic based in Hove.
Our team at Splash Orthodontics are comprised of leading industry experts. This is coupled by our exceptional customer care and bespoke treatment options. We understand that some people are anxious over visiting dental or orthodontic practices, which is why we put our customer care first and foremost. Ensuring our patients feel comfortable and relaxed is our utmost priority, which is why we offer free no-obligation consultations where you can ask our expert team questions regarding your treatment.
The consultation is extremely beneficial to our patients, as this is where questions can be asked and braces options can be discussed. Our resident orthodontist, Iain Hoeltschi will be present and will be able to give advice on which treatment would best suit you.
Some questions you may want to ask:
Am I an appropriate candidate?
What does the process involve?
What treatments are there?
How much will it cost?
Before treatment begins, we will ensure that you understand what your chosen procedure entails and that you're comfortable with your braces choice. Our variety of braces options means that we will be able to find a treatment plan tailored to you.
Orthodontist Treatment in Peacehaven
Located just a short distance from Peacehaven, we encourage prospective patients to visit our clinic in order to discover how we can transform your smile. We have a range of bespoke treatments suited for every patient who walks through our doors.
While choosing your braces is a fun and exciting premise, it's our responsibility here at Splash Orthodontics to ensure your safety is put first. This means that there may be occasions where the braces option you have chosen is not appropriate for your tooth development. This will all be explained during the consultation and we guarantee that we will be able to come to a conclusion that satisfies both parties.
Our Braces Treatments in Peacehaven
One important note to remember when choosing braces is that it isn't simply down to the aesthetics. While some people may be concerned with how they will look with braces, the important factor to remember is how effective the braces are.
Invisalign braces, for example, are vastly different to fixed braces. Invisalign braces are made up of two transparent aligners which are removable. While they are less invasive than fixed braces, you do have to remove the aligners every time you eat food and you must clean them daily.
Fixed braces, on the other hand, are not removable, nor are they 'invisible' in the same way as Invisalign. However, they do offer a phenomenal degree of control, hence why they are the most popular braces choice.
Everyone's mouth is different, which means there is no 'one size fits all' brace. This is why our team at Splash Orthodontics offer a wide variety of braces options to our patients in Peacehaven.
Speaking to our team will help you decide on what braces choice is right for you. Below are the braces options we offer here at Splash Orthodontics:
While fixed braces remain the most popular braces choice through time, Invisalign is receiving positive attention. This is mainly because people prefer to hide their braces and Invisalign allows patients to remove their braces whenever they want and even when they are wearing them, they're transparent.
This option is very popular for teens and young adults looking to adopt a more discrete braces option.
Fixed braces still offer the highest degree of control when it comes to tooth alignment. While they may not offer the discreteness of Invisalign, their success cannot be denied. This is why they continue to be used in all orthodontic practices today. If you are not concerned with the aesthetics of fixed braces, then they may be the choice for you.
It's important to remember that if you do choose fixed braces, you will have to attend regular check-ups with your orthodontist to ensure your teeth are developing as expected.
Many people view lingual braces as the happy medium between fixed and Invisalign braces because they're positioned behind your teeth. Lingual braces work in a similar way to fixed braces, in that they're fixed to your teeth and offer an exceptional degree of control. If you're looking for a combination of discreteness with exceptional control, lingual braces may be the option for you.
Visiting an orthodontist early is essential for healthy tooth development. We recommend that every child should visit the dentist or orthodontist between the ages of 6-10. While treatment may not be required, it's important to ensure your child doesn't have any issues that may be problematic in the future. An orthodontist will be able to spot any potential issues and act accordingly before the problem worsens.
Teenagers and braces rarely seem like a good mix! However, today, there are a wide variety of braces options to choose from, making the idea of getting braces easier to stomach for some teenagers.
Invisalign is one of the most popular choices for teenagers considering braces. Speaking with our expert team will help you find the braces choice for you.
Adult treatment is now becoming increasingly popular due to the advancements in orthodontic technology. Additionally, many people believe that there is an age cap on braces – there isn't!
If you are unsure as to which braces option to choose, our expert team will happily lend their advice.
Visit Our Clinic for a Free Consultation
So, if you're looking for specialist orthodontist, why not make the short trip down to Hove to visit Splash Orthodontics? A 20-minute drive could lead to a healthier, happier smile. Get in touch today for your free consultation!
Please see the map below for the easiest ways to reach us.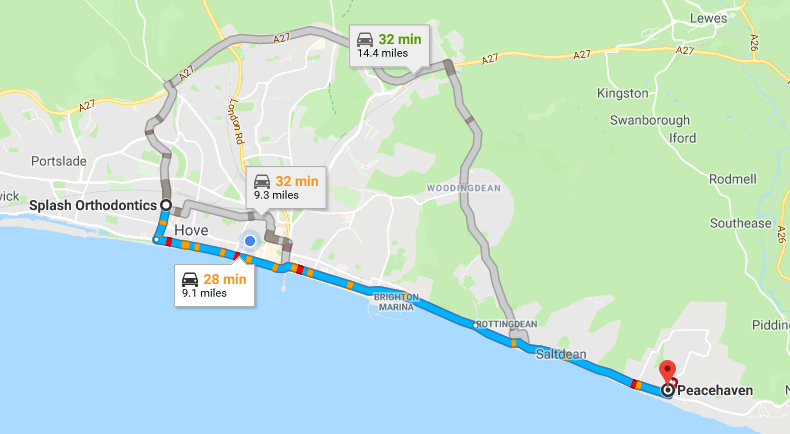 Parking:
Sackville road:
Monday – Sunday 09:00 – 20:00 (anytime outside these hours is free)
1 hour – £1.00
2 hours – £2.00
4 hours – £3.20
Max – £5.20
For more information on parking, please visit this page here.