Orthodontist in Guildford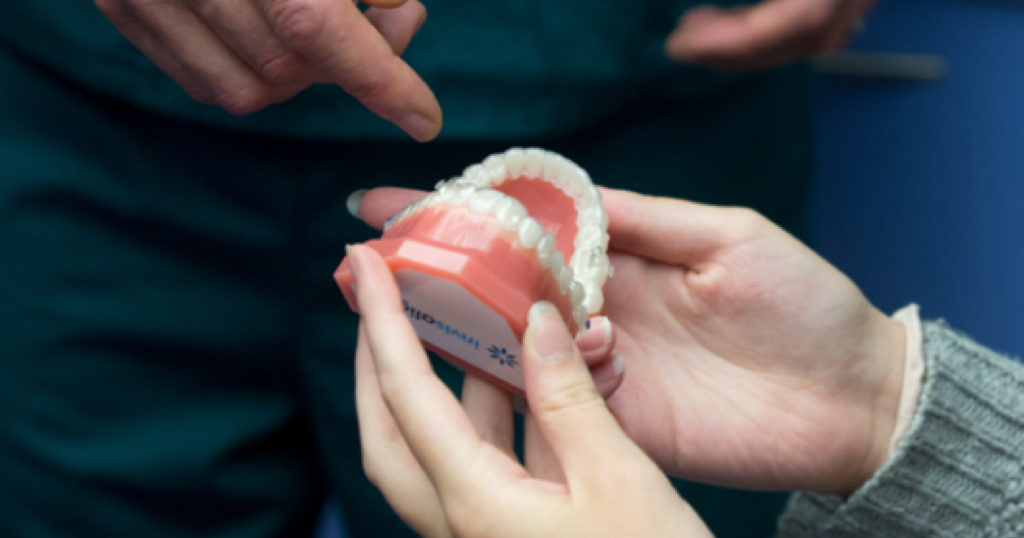 We offer a range of bespoke braces options, including Invisalign, fixed and lingual braces. We work with our patients to find a solution to their oral health requirements. Our team prioritise customer care first and foremost, so if you do have any questions or concerns regarding your braces, we are here for you.
Our Exceptional Customer Service
We understand that some patients are slightly hesitant regarding orthodontic treatment. Which is why we offer free, no-obligation consultations to all our patients in Guildford. Your consultation is where you will be able to ask any questions or raise any concerns you have regarding your treatment. Ensuring our patients feel comfortable as soon as they walk through our doors is very important to us. We also encourage patients to ask as many questions as they see fit.
Our Resident Orthodontist: Iain Hoeltschi
During your consultation, you will be joined by our resident orthodontist, Iain Hoeltschi, who will be able to answer any questions. Here are some you may want to ask:
Am I an appropriate candidate?
What does the process involve?
What treatments are there?
How much will it cost?
An important part of our process here at Splash Orthodontics is ensuring our patients are comfortable with their treatment options and understand the braces process. This is why the free consultation is so important, please do not hesitate to ask as many questions as you like.
We provide three braces options for adults and children alike. Each patient is given a bespoke treatment plan based on the braces they choose. Once you have selected your braces, we can start the treatment process.
Orthodontist Treatment in Guildford
Many of our patients travel from across the UK to visit our clinic, and we encourage those from Guildford to make the short journey to witness our bespoke treatment options. You can call us today for directions or simply get in touch via our contact form.
Our Braces Treatments in Guildford
Splash Orthodontics provides three primary braces options: Invisalign, fixed braces and lingual braces.
While we do allow patients to choose the braces option that they desire, we're obligated to inform patients if their choice isn't appropriate for their tooth development. However, this will be discussed during the consultation and we guarantee that we'll be able to find a solution for you.
Each patient requires a bespoke treatment plan tailored to their specific requirements, and we'll talk you through this during your consultation.
Below are the braces options we offer here at Splash Orthodontics:
Invisalign
Invisalign has become very popular with teenagers and people looking for more discrete braces options. Invisalign is made up of two transparent aligners, which must be removed when eating and drinking. While Invisalign is a fairly new treatment, it has seen strong success rates.
Fixed Braces
Still the most popular treatment option, fixed braces offer the highest degree of control out of all other treatments. While they may not offer the discreteness of Invisalign, they do not have to be removed when eating or drinking, nor do they require constant cleaning.
Monthly checkups are required for fixed braces to ensure your treatment is progressing as expected.
Lingual Braces
Lingual braces are also becoming popular because they combine the discreteness of Invisalign with the control of fixed braces. Lingual braces are attached to the back of your teeth, so the opposite to fixed braces. This means that they are hidden from immediate sight, making them a strong choice for those wanting to adopt a discrete treatment.
Early Treatment
All patients aged between 6-10 are encouraged to visit an orthodontist to ensure nothing is out of the ordinary. While there may be nothing wrong, an orthodontist will be able to tell if any future issues may arise. If so, your child will be given a treatment plan to ensure healthy oral development is achieved.
Teen Treatment
Teenagers and braces may not seem like a good mix but our treatment options can be designed to be as discrete as possible. Having a consultation with Dr Hoeltschi will be extremely beneficial and he will outline.
Adult Treatment
We offer adult treatment to all our patients in Guildford. Thanks to the advancements in technology and our state of the art equipment, we're able to provide a variety of treatment options to our adult patients in Guildford.
Adult braces are becoming increasingly popular due to advancements in technology and the media. There is no age cap on braces, so if you're considering them, book-in for a free consultation today!
If you are unsure as to which braces option to choose, our expert team will happily lend their advice.
Visit Our Clinic for a Free Consultation
So, if you're looking for specialist orthodontist, why not make the short trip down to Hove to visit Splash Orthodontics? Your trip from Guildford to Hove could lead to a healthier, happier smile. Get in touch today for your free consultation!
Please see the map below for the easiest ways to reach us.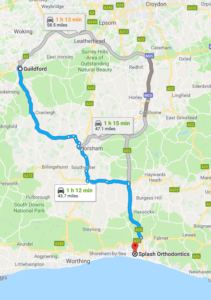 Parking
Sackville road
Monday – Sunday 09:00 – 20:00 (anytime outside these hours is free)
1 hour – £1.00
2 hours – £2.00
4 hours – £3.20
Max – £5.20
For more information on parking, please visit this page here.