Orthodontist in Burgess Hill

Splash Orthodontics is the leading orthodontic clinic based in the Brighton and Hove area. While we are located in Hove, we encourage those travelling from neighbouring towns and counties to make the very short trip down to our clinic.
Our clinic is made up of a small, specialised team dedicated to ensuring all our patients leave with the smile they deserve. Additionally, we offer a free, no-obligation consultation. During this consultation, we will talk about what you'd like to achieve, your expectations and the type of brace that would best suit your requirements and preference.
Alongside our free consultation, our team will provide expert advice on your best course of treatment. We provide a wide range of braces options, from Invisalign to traditional fixed braces for both children and adults. We can help you choose the braces that will best suit your requirements and individual needs.
Orthodontist Treatment in Burgess Hill
We know better than anyone that getting braces can be both scary and exciting. However, we are here to ensure that once you make the short trip down from Burgess Hill, your comfort and safety is paramount. If you'd like more information on how we can help you achieve the smile you deserve, please do not hesitate to contact us before making the trip down. Our dedicated staff will be more than happy to answer any questions you have prior to your visit.
Our Braces Treatments in Burgess Hill
We understand that when choosing braces, variety is important. That's why we provide our patients with a vast array of braces options to choose from.
Picking the right braces to fit your preference and requirements is hugely important. Not only is it important for the patient's tooth development but comfort plays a pivotal role in the selection process. If a patient chooses an option that they do not feel comfortable with, they may exhibit symptoms of anxiety and insecurity. This is why it's so important to discuss your options with our team during your consultation. We're here to ensure your choice falls in line with your lifestyle and personal preference.
The consultation is where you will be able to voice any questions you have about the braces process and the options available to you. If you're looking for a more discrete option, then you may want to ask about Invisalign – an increasingly popular choice for those seeking discreteness. If you aren't bothered by the aesthetics, you may be a candidate for fixed braces, which have exceptional success rates and now come with the option of translucent tracks.
Here at Splash Orthodontics, our wide range of treatments ensure that you'll be able to find the treatment that best fits you. We understand that personal preference is hugely important when choosing braces. Our team are dedicated to helping you choose braces that are both appropriate for tooth development and that you feel comfortable wearing them.
Additionally, our resident orthodontist Iain Hoeltschi will also be present to help you decide on the appropriate treatment for you.
If you'd like more information on the treatments we offer, please see below:
Arguably the option that has seen the most attention over the last few years is Invisalign. They're commonly known as 'invisible braces' due to their transparent design, alongside being removable. They are most popular among those who are interested in keeping their braces low profile. Teenagers and young adults often opt for this option.
---
If you're looking for a traditional option and you aren't bothered about discreteness, fixed braces are a fantastic option. They produce exceptional results and offer immense control regarding positioning your teeth. Fixed braces are used in every orthodontic practice because of their high success rate and arguably offer the fastest teeth straightening solution.
---
Often viewed as a combination between Invisalign and fixed braces, lingual braces are positioned behind your teeth. They offer a discrete alternative to fixed braces as they're fixed to the back of your teeth. They offer the same degree of control as fixed braces as well as offering discreteness.
---
We recommend that children between the ages of 6-10 should visit an orthodontist. While there may not be any visible or noticeable signs of tooth problems, an orthodontist will be able to tell if your child may encounter problems further down the line. It's also important to have a check-up to ensure your child's tooth formation is developing healthily. This could also end up saving you a money if problems can be identified early (if there are any).
Our team will have no trouble identifying any underlying issues and will happily offer ways to treat and manage your oral health going forward.
---
We know better than anyone that some teenagers can be very anxious when it comes to speaking about braces, let alone getting them! That's why during every consultation we ensure that your treatment plan adheres to your requests, and we guarantee that the treatment we choose together will be comfortable and in your best interest.
We believe that the braces journey is an especially exciting one, and we're sure that we can convince teenagers to feel the same!
---
Adult treatment is available to every adult, there is no age limit when it comes to orthodontic treatment. Adult braces have seen a surge in popularity due to the media and how accessible it has no become. Not only that but options such as Invisalign have made the thought of getting braces much easier for adults.
Being able to conceal and remove your braces is something that's very appealing to adults, especially those who would like to keep their braces low profile.
---
Visit Our Clinic for a Free Consultation
So, if you're looking for specialist orthodontist, why not make the short trip down to Hove to visit Splash Orthodontics? A short 20-minute drive could lead to a healthier, happier smile. Get in touch today for your free consultation!
Please see the map below for the easiest ways to reach us.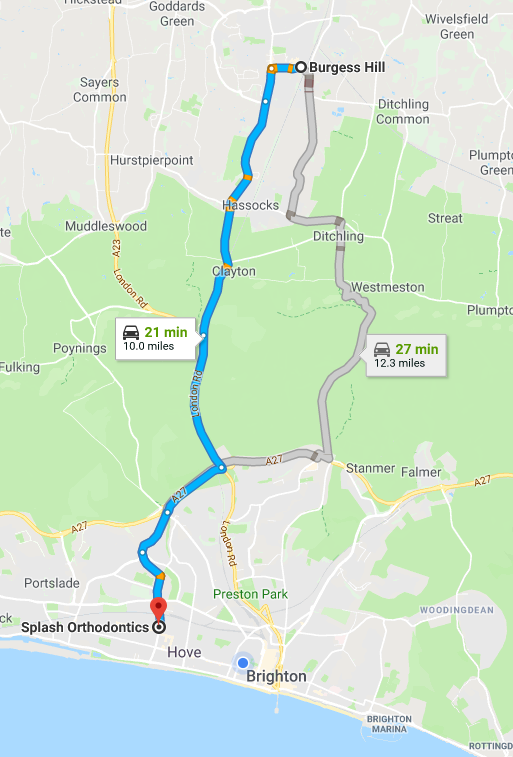 Parking:
Sackville road:
Monday – Sunday 09:00 – 20:00 (anytime outside these hours is free)
1 hour – £1.00
2 hours – £2.00
4 hours – £3.20
Max – £5.20
For more information on parking, please visit this page here.